Ogden Summer Activities

Jul 06, 2016 09:38AM ● Published by Cassidy Ward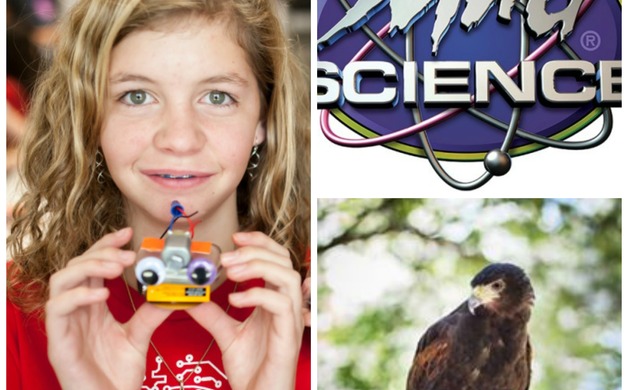 By Cassidy Ward
While we all look forward to the weekend, they have a tendency to result in long nights and late mornings, and though they feel eternally fleeting, they are just long enough to throw a wrench in the machinery making Monday's a day of constant recovery and recalibration. Likewise, summers are the seemingly magical reward for a hard year's work offered to school age kids. While in the midst of vacation they can feel never ending, nights spent trading sleep for one more episode on Netflix, sleeping in, hanging out with friends, generally relaxing from the responsibilities of the rest of the year, like one long Saturday. 
Loathe as we are to admit it, there can be too much of a good thing. As the days and weeks fall off the calendar the constant lack of structure can start to weigh heavy and while your teenager or pre-teen may never vocalize it, they might need some activities to help fill the time. 
Luckily for you and for them, there is a vast selection of day camps and activities taking place locally that can fill that void, keep the mind and body sharp, and help prevent that vacation hangover from muddying up the next school year. 
Mad Science Camps
Mad Science is an international science enrichment program with events and camps happening in several locations throughout Utah. In their more than 25 years, they have developed innovative programs to help kids develop a love and appreciation of the scientific method and encourage the pursuit of STEM field careers. Mad Science has several courses available in and around Weber and Davis Counties this summer. 
Location: Eccles Community Art Center
July 5 – July 8, 9:00 a.m. to noon.
Brixology: Exploring engineering concepts with Lego Bricks. This program is intended for students in grades two through six. The camp lasts four days and tuition is $140.00.
August 1 – August 5, 9:00 a.m. to noon.
NASA – Academy of Future Space Explorers. This program is intended for students from Kindergarten to sixth grade. The camp lasts five days, tuition is $165.00, and will introduce kids to the wonders of exploring that vast and final frontier. 
Clearfield Aquatic Center
July 11 – July 15, 9:00 a.m. to noon.
Anatomy Academy. This program is intended for students from Kindergarten to grade six. The camp lasts five days and will introduce students to the inner workings of living things. Tuition is $145.00. 
July 25 – July 29, 9:00 a.m. to noon.
Crazy Chemworks. When you get right down to it, all scientific fields relate to chemistry in some way. Whether you're interested in physics, biology, or anything inbetween, understanding how the basic atomic elements interact with one another is vital. This program is intended for students from Kindergarten to grade six. Tuition is $165.00
August 8 – August 12, 9:00 a.m. to noon.
Eureka! The Inventors Camp. A good understanding of reality's inner workings is invaluable, but what good is it if you can't apply and unleash that knowledge on the world? Eureka! knows there's no better feeling that taking an abstract idea and making it a reality, the five day program challenges students to create something new, planting a seed that shows them if they can dream it up, they can make it a reality. This program is intended for students from Kindergarten to grade six. Tuition is $120.00. 
You can pre-register for any of the Mad Science camps and get more information by calling 801 392-6935 or by visiting greatersaltlake.madscience.org.
Ogden Nature Center Wild Wednesdays
Wild Wednesdays at the Ogden Nature Center invite you and your family to get a closer look at the natural world. Each week offers a new specific topic that will allow you to broaden your mental horizons and maybe even get your hands dirty. 
July 6, 3:45 p.m.: Red, White and Blue: A Special Independence Day Program.
The Nature Center will be offering a special program in honor of Independence Day. You and your family can learn about bald eagles, what makes them special, and why they were selected as our national symbol. 
July 13, 3:45 p.m.: What's the Buzz? 
Over 900 species of bee call Utah home and you can learn about them all. Join a discussion on what makes bees special and why they are an important component of the ecosystem. 
July 20, 3:45 p.m.: A Tale on Tails
Tails are amazing appendages. Sadly, somewhere along the evolutionary path, humans lost their tails, but they remain in some of our closest furry friends. Learn about all the ways tails come in handy throughout the animal kingdom, feed your tail envy. 
July 27, 3:45 p.m.: Whooo eats whom?
Living in our cozy corners of the world, humanity has separated itself for the most part from the rest of the food chain. Here in our lofty towers made of impenetrable concrete and steel, we've forgotten what it's like to hunt or be hunted. But it's a dog eat dog world out there, come and learn about the predator and prey relationship and what it takes for animals to survive in the wild.
August 3, 3:45 p.m: Antics.
What do you get when you mix a microscope and one of the smallest and most cooperative species on Earth? How about a close up view of one of the most impressive insects in the world? You'll feel like Rick Moranis but without the comedic mortal danger. 
Events happen every Wednesday beginning at 3:45. Cost of admission is $5.00 for adults, $3.00 for kids aged two to eleven, and $4.00 for seniors. Members get in free. 
Summer Art Camp for Children Ages Seven to Eleven.
July 11 – July 15, 9:30 a.m. to noon. 
This five-day camp will take place at the Eccles Community Art Center and aims to introduce kids to a variety of visual and performing arts. Tuition is $55.00 per student. You can register by calling 801 392-6935. 
Sense-sational Fledgling Camps
July 18 – July 22, 9:00 a.m. to noon at the Ogden Nature Center. 
This program is aimed at kids aged four to six and focuses on one of the five senses each day. Tuition is $24.00 per student per day and you can choose to enroll your student for the entire week or choose days you and your student are interested in. 
Agenda: 
Monday, July 18th - Seeing through wildlife eyes
Tuesday, July 19th - Sniffing out lunch
Wednesday, July 20th - Raccoon paws and porcupine quills
Thursday, July 21st - Butterfly feet can taste yummy treats
Friday, July 22nd - Tweet, bellow, howl and other nature sounds.
You can register and get more information by calling 801 621-7595 or visiting ogdennaturecener.org
Eco-Art 3-Day Adventure Camp
July 6 – July 8, 8:30 a.m. to 3:30 p.m. at the Ogden Nature Center.
This program is aimed toward kids aged nine to twelve and endeavors to encourage exploration and understanding of nature through art. Kids will have access to multiple mediums including painting, sculpting, and mixed-media. Tuition is $110.00 per student. Register and get more information by calling 801 621-7595 or visiting ogdennaturecenter.org
Girls Go Digital! Hack, Design, Code & Make!
July 26 – July 29, 9:00 a.m. to 3:30 p.m in the Technical Education Building at Weber State University.
Girls Go Digital! aims to address the gap in female representation in STEM fields by introducing girls to computers, programming, technology and design at an early age. Tuition is $250.00 before July 10 and $295.00 after that date. To register or get more information contact danadellinger@weber.edu or visit girlsgodigital.org   
Education
,
Today